CONSUL JAN E. FRYDMAN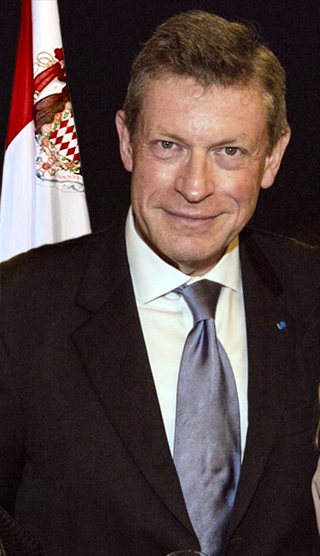 Jan E. Frydman, Esq., Member of the Swedish Bar, is the Consul of the Principality of Monaco to Sweden, having been appointed to this position by H.S.H. Prince Albert II of Monaco on January 31, 2020.
Mr. Frydman is the owner of the law firm Frydman Advokatbyrå, and is also the Head of the Swedish Delegation to the European Council of Bars and Law Societies. He most recently served as the Special Adviser to the European Commissioner for Trade, Dr. Cecilia Malmström (2015-2019), and as Adj. Judge of the Svea Court of Appeal (2013-2014).
Mr. Frydman's career, as executive, lawyer and diplomat, has spanned both business and government in Sweden, the United States and the European Union institutions in Brussels, with a focus on international affairs, in particular transatlantic relations.
For the past two decades, he was a senior official of the European Commission, having served as legal advisor to the Director General for Enterprise and Industry, principal administrator for relations with the United States of America and Canada, Deputy and Acting Head of Unit for International Affairs, Head of Unit for International Regulatory Affairs, Head of Unit for Tourism and Culture and, finally, as the Special Adviser to the European Commissioner for Trade, Dr. Cecilia Malmström.
Before joining the European Commission, Mr. Frydman was Group Commander in the Royal Swedish Air Force, held Brand Management positions with The Procter & Gamble Company, was Corporate Banking Officer and Representative for the Nordic countries for The First National Bank of Chicago, was the Vice President and deputy CEO of American Professionals Insurance Company, and practiced law with Mannheimer Swartling in Stockholm and New York, focusing on international business transactions and cross-border mergers and acquisitions. He was also co-founder and head of the Firm's Information and Knowledge Management Department.
Mr. Frydman was born in Stockholm, Sweden. He holds a Diploma in Natural Sciences and Music from Adolf Fredrik High School, Stockholm, a Bachelor of Business Administration degree in Finance and Economics with Honors, Beta Gamma Sigma, from the University of Oregon, USA and a Master of Laws from the University of Stockholm, Sweden. He has participated in a number of university programs, including the PIL at Harvard Law School, and in training for EU officials at Ecole Nationale d'Administration (ENA).